Ammonia Refrigeration Inc is a partner with Rhino Industrial™, providing you with industrial quality Rhino lining services.

We use a 1:1 spray polyurethane foam insulation and sealant to improve the efficiency of your buildings. We also provide a 1:1 and 2:1 polyurethane polyurea, and polyaspartic formula to protect your equipment from abrasion, corrosion, and slipping vibration.
This treatment will increase the life of a variety of industrial and commercial materials. With top-performing polymer formulations and state of the art application equipment, Rhino Industrial will continue to set the standard in the protective coating industry.
The Rhino Linings/Ammonia Refrigeration Inc solution has provided a number of very positive benefits for the Food Processor including:
Repairing any minor defects in the metal structure.
Reducing ongoing maintenance costs.
Extending the life of the Cooling Towers and Condensers.
Eliminating the need and cost of a replacement.

.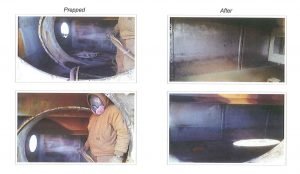 Ammonia Refrigeration Inc began the refurbishment process first by sandblasting the galvanized metal using black beauty media to get an anchor profile and remove loose scale. The metal was then wiped down with acetone to remove any contaminants. Primer 161 (polyurethane) was chosen because of its adhesion, bonding, and high elongation properties. This was applied by a roller at 4-6 mils.
Rhino Extreme (100% polyurea) was then sprayed on the primed metal surface at 100-125 mils giving the pans, side walls, and pipes a monolithic lining that would protect them against future water leakage and corrosion. Since completion, the condenser pans, side walls, and pipes have not shown any signs of chemical or corrosion attacks because of their monolithic protective seal.